PDA plugin with iPhone support
Today I upgraded my blog to latest WordPress 2.5. You have no idea what they have done to the WordPress. It is really great and lovely. I really like the new interface and media manager integration. Most of the functionalities what my organizer plugin did is of no use now. Thanks to WordPress team 🙂
After a very long time I sat down and update the pda plugin. While doing so I got little greedy and tried to add a simple iPhone theme to it. It is far away from beta version. Still lot more to go. I am still finding a best method to do the plugin with nice ajax features and animation what iPhone would support. Still far more to go on the theme. For a 4 hours of work it works pretty well. I know what are all the bugs in it but I will try to mend it and release a new version end of next week.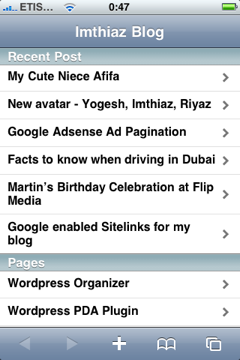 wp-pda plugin is now fully compactible with latest WordPress 2.5. I would like to get feedback from you all. Thanks for supporting the plugin so far 🙂
You can download the plugin from here.
Checkout the latest changes and updates here.